Kurti Ashell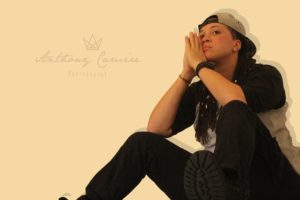 Once you listen to her music, if you begin to think –edgy, raw, and provocative! Then yes! This young female MC has done her job and delivered true to her style. Expressing herself in a no hole barred kind of way, everything about Kurti Ashell is different. Just the way she likes it.
The half Turkish half African American artist is 100% original.
Born Jasmine Curtis, a natural born entertainer she has a keen sense of who she is. Never afraid to march to the beat of her own drum. She started listening to Missy Elliot when she was just in Kindergarten. She became inspired by the Artists' crazy–out there style that seemed to break all the rules. It was Missy's bold stand to maintain authenticity that began to resonate with Jasmine as she got older.
Jasmine had an innate ability to rap freestyle. Testing her emerging skills around her friends and classmates it gave her the motivation she needed to start writing her own lyrics. With the support of her family and friends who embraced her individual style, she began borrowing her friends macbooks to start laying down her tracks when she was only in the sixth grade .
There was never a moment that her audience wasn't captivated by her style and flow. Music started to become a serious pursuit for her. Jasmine began putting in the work to develop her career as a rap artist in the music industry.
Jasmine went to college and pursued yet another passion of hers in the culinary arts field, it was then that she had the opportunity to enter a karaoke contest at a local bar. Instead of doing a remake of a song, she decided to showcase her own style of music. That performance landed Kurti Ashell a win!
Excited by the win, it fueled her desire to go after more. She entered every music contest she heard about and won every performance!
In 2017, a facebook post for a contest performance entry shifted things for Kurti in a major way. When A & R representative Elisa Thompson of Wealth Nation Entertainment; responded to Kurti Ashell's inquiry. Kurti's music was sent over to Wealth Nation CEO Robert Terell who saw amazing potential in her. At the time Kurti didn't have any knowledge of how to really pursue her music career. She didn't have any real online social media presence or following. Within two short months of signing a management deal with Wealth Nation Entertainment which has distribution through Sony Red, Kurti has expanded her market and grown an organic fan-base.
Kurti's style, yet all her own is a blend of Missy Elliot and Trina. Wild, fun and crazy meets raw or extremely raw as Kurti would say.
Kurti has performed on the Wealth Nation Indie All Star 3 Tour as well as the 2017 SXSW stage. She continues to be in high demand booking a minimum of two shows per week. Kurti is definitely on fire with no plans of cooling off. She is climbing the music charts as she builds her super fan base as an artist unafraid to take risks!
Check Kurti Ashell out as she hits the stage on the 2017 BBOD Go Hard or Go Home Tour coming to a city near you!